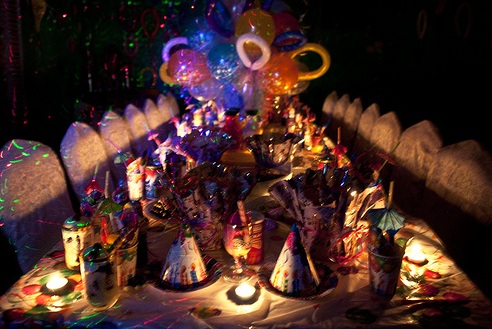 Party planning is tough, it's boring, it requires a lot of effort, and one thing is for sure, it's not the fun part of throwing a party. When you're over the "deciding for a theme and motif" phase, your next dilemma would be decorating. And for most people, it is a major problem.
Not everyone has an eye for decorating. It is a problem most amateur party planners go through. "How should I decorate my venue in line with the theme?" People are too afraid that they might make the place look like it shouldn't be that's why they end up not decorating at all or calling a professional who is somewhat expensive and impractical for most people. So before you hit that dial pad and waste your money, here are simple and versatile ways about how to decorate a party.
1. Balloons
It is the stereotype decoration for a birthday party, but little do most people know that it is not only for that specific occasion. This rubberized helium bag comes in a wide variety of colors to cater one's preference. It is cheap, its stock is an easy access, and it is very dispensable as child guests would love to bring one home.
2. Banners and Signages
Be it a wedding, or an anniversary, it is never wrong to hang up several of these on walls. It should contain greetings or quotes like "Fifty years strong and counting" or "Hope you blow your cake this year!" These banners not only style your venue but also acts as a display of information because some guests never really know what the party is all about or who the honoree is. One good advice for this decoration is that it should be placed where all the guests are going to have an eye on like near a cake, or where the celebrants are going to sit.
3. Garlands and Buntings
It just brings out the festive and merry vibe on your party. When buntings are mentioned, fiestas are thought of but no, it doesn't have to be that case. You could have buntings made of flowers for formal events or a birthday party for a teenage girl, it really is up to you. This decoration can spread through the entire ceiling, walls, and garden. It points guests to where the really fun things happen too.
4. Skirted Tables
Who says they are only for formal events? Not everyone considers the skirting of a table cloth as an eye candy, but everyone sure does notice a blank and naked table. It requires a lot of time, patience, and skill but the effects are all worth it. It's good for birthdays, weddings, and costume parties, just about anything. It will only vary on the skirting style, the color and quality of the cloth used. And make sure the colors and patterns coincide with the theme and motif. However, in most cases, this is not an issue because table skirting blends with almost any theme.
5. Giveaways
If you can't afford an ice sculpture, these will work the same way. Place it on a table somewhere where everyone can see it and be sure to arrange it in stacks. It is a great idea to have these on an event as guests tend to appreciate bringing home a memorabilia from the party as well.