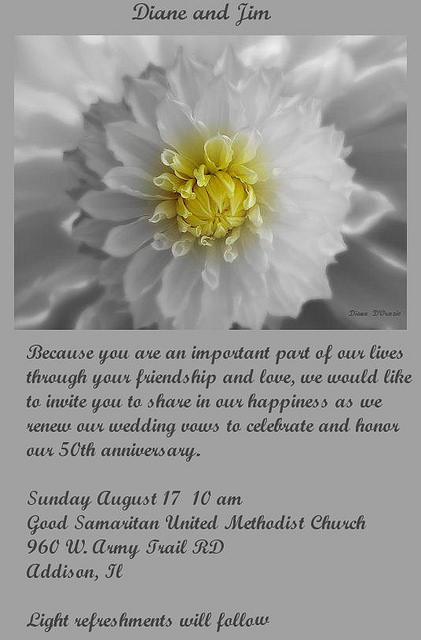 These days, people have found more ways to send invitations without exerting too much effort. With the use of the Internet, you can simply compose an e-mail and send it to your friends, or send a group message to everyone you want to be in your party via Facebook messenger. Regardless, the intent of doing so is the same: To get the word out that you're hosting a party.
Invitation cards are a staple for formal events like weddings, anniversaries, and elegant-themed parties. Usually, these are sent online now. Despite that, sending out invites the old-school way never goes out of style. As a host and the party planner, it is your job to make sure your invites are appealing to your guests.
Remember that first impression really matters. So here's how to make an invitation card stand out:
1. The Basics and Most Important Details
What good would your invitation be if you don't cover the fundamentals? Your invitation should contain the name of the honoree, host, type of party, theme, venue, date, and the dress code.
For formal events like weddings, spell out the year instead of the usual Arabic numbers. Such as 29th of June, two-thousand fifteen. This applies to time as well and make sure you use morning, afternoon, or evening instead of A.M. or P.M.
Example: Six o'clock in the afternoon.
If you are not strict with the number of guests you will be having, one invitation for an entire household is enough. Otherwise, put a "plus one" box for you to know the exact number of people your guests will be tagging along.
2. Make the Header Catchy
An invitation that gives you right away the details is bland. Guests should be greeted first with a simple phrase or sentence like "You are cordially invited to the wedding of John Doe and Jane Smith," or something more interesting. These opening sentences should give your recipients a clear picture of what kind of party it is or what's the theme.
For example, if you're having a Hawaiian-themed birthday party, your letter should start with "Aloha!" It's short, it's direct, and your guests will know right away what kind of party it is.
3. Provide a Contact Number
If you want to get the exact number of guests, or you want to have a complete list of friends and family who are sure to attend, provide a contact number. Be sure to state in your invitation that it is the contact number for confirmation. Having an RSVP printed there will encourage your guests to reply to your invitation too.
4. A Trinket for a Gate Pass
This is very common for formal events wherein the number of guests is limited. It is also effective in keeping out party-crashers. Be sure you inform security in the venue that you're having a gate pass and give them a sample.
You might say a guest list is enough, but this is a creative way to keep the numbers in check. In addition, it will give your guests something to remember by from the event. It could be in the form of bracelets, figurines, glow sticks, and anything creative that is related to your theme.