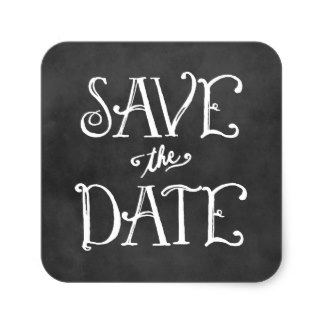 A save-the-date invitation is one of the most fun part of organizing a party. Whether it's your wedding or your birthday or any other event in your life, it's always exciting to finally announce to your guests that "Hey, I'm having a celebration" at a specific date and time. You're halfway to your event, after all, you've already set the date, the time, and the place. All the other elements of the party are just minimal compared to those three things.
So, where do you start with the save-the-date invitations? And how do you deal with sticky situations?
Do we really have to send a save-the-date?
If you have a destination wedding or you have a three-day event, etiquette requires you to send a save-the-date invitation. You will have to give your guests a heads-up, so they can plan ahead and put your event in their schedules. It's common courtesy to acknowledge that they can be busy people, too, and they might not have enough time to arrange accommodations for your event.
When do we send it?
As a general rule, you have to send a save-the-date invitation around six to eight months before the actual party. If you send it too early, the guests may forget about it. If you send it too late, it might actually be a formal invitation, and not a save-the-date invite.
To whom do we send the save-the-dates?
You don't have to send save-the-dates to people you don't plan to invite in the end. From the term itself, you're basically asking the people to save that particular date, so that they can attend your party. It's no use to send a save-the-date invitation to people you don't want to see during your event.
What details should we include?
You should include when and where and what time the event will be. This will give the guests a chance to plan ahead—take a leave if your event is out of town. Of course, don't forget the name/s of the those throwing the event. You may also include a website of your party—a wedding website, for example—though this is not required or necessary.
Can save-the-dates be electronically mailed?
It's really up to you, as the host, to send the save-the-dates in whatever form you feel will suit your resources. But remember, older guests may not necessarily have email addresses or they may not regularly check their emails. If you want, you can send a digital save-the-date to your younger guests and send a printed version to your older guests.
Do we need to add "and guest" on the save-the-dates?
Even if it's still early, you have to be clear about who's invited to the event. Include the names of the people you're inviting on the save-the-dates. Is your cousin's new boyfriend or your three-year-old nephew included in the guest list? It's better to be clear about all these things, so you can avoid confusion and unnecessary questions once the formal invites are ready to be sent out.