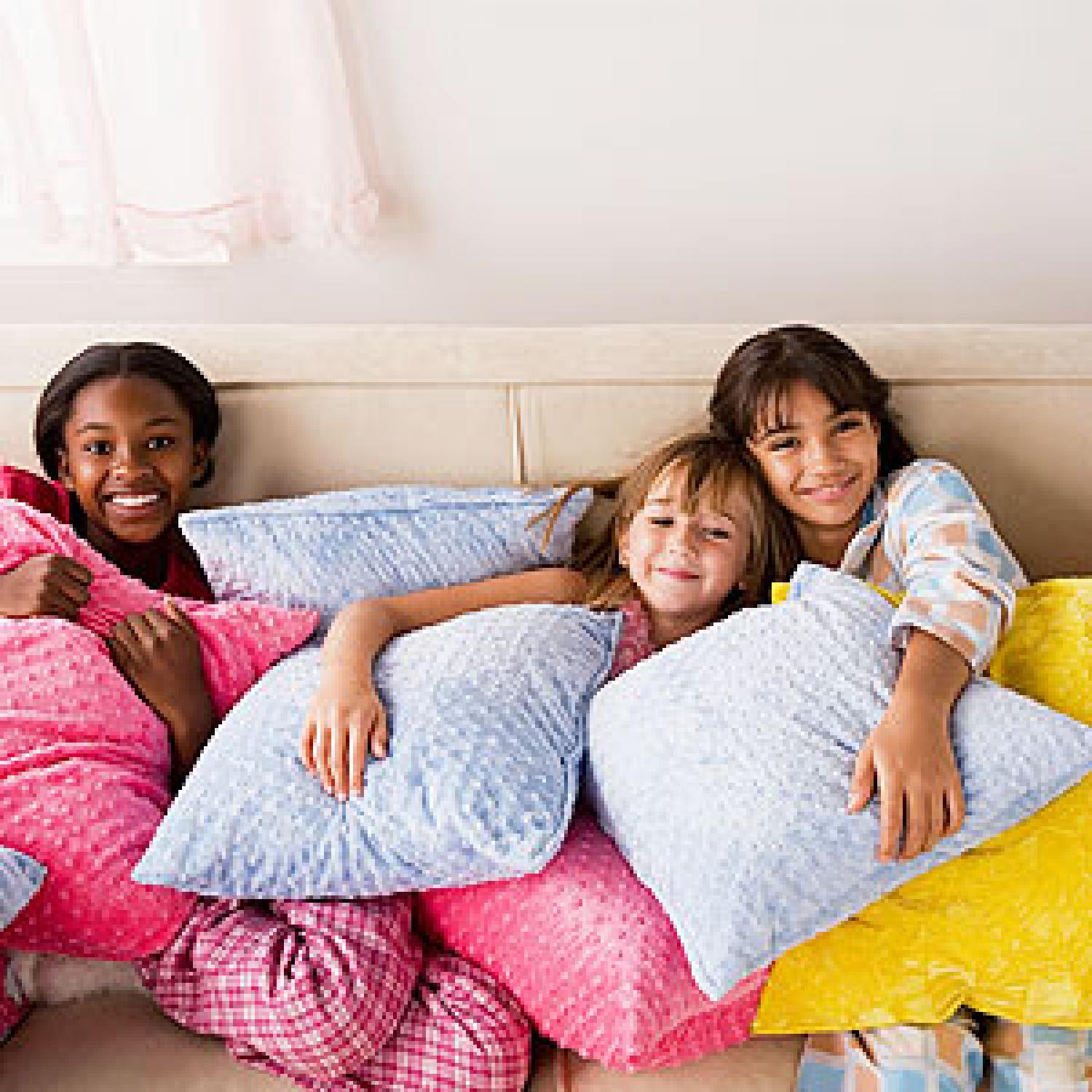 What do you love doing with your friends when you were just little kids? No matter how advanced technology is today, one thing remains true for all kids—they love pajama parties and sleepovers. If you're thinking about hosting a children pajama party, you have to make sure that they are all mature enough to handle it and that they understand the do's and don't's in your household.
Here are the top 10 pajama party ideas you can follow:
1. Put up tents, pillows, and twinkling lights in the room.
Think Tinkerbell. The twinkling lights above the canopy of mesh and other types of textile will make the children feel like they are inside their dreams. Use pastel colors such as light pink, mint green, lavender, and other flowery designs. To make it even dreamier, you can buy an 8-pack, 20-LED starry string lights on extra thin silvery copper. It costs just $15.99 and emits that golden light you're going after.
2. Setup a photo booth.
You don't have to hire a professional photographer for this. You just have to setup a tripod with your camera on it, then put up a cloth on one wall and let the girls pose for the camera. Provide them with a couple of funky hots, sunglasses, and wigs, and they are good to go.
3. Give them the spa treatment.
Even little girls love having their nails done. You don't have to hire actual spa therapists and manicurists. You and the other girls' moms can do these for the group. Let them read their fairytale books and magazines while you cover their nails with glittery colors.
4. Personalize pillow cases.
All you need for this crafty activity is some plain pillow cases, which you can get for cheap. Throw in a couple of fabric crayons or paints, add some glitters, buttons, and other accessories, and your daughter and her friends will surely love them.
5. Put up dreamcatchers.
It might be a bit complicated to let the children make dreamcatchers but if they can, then why not? It is so easy because all you need are colorful threads to make one. Let the children's imagination rule over.
6. Have a glow-in-the-dark party.
There are plenty of available products that would turn your daughter's room into a glow-in-the-dark party. You can also buy non-toxic pens, so that the kids can draw on each other's faces or better yet, draw on plain white shirts and have fun with the camera.
7. Food, food, food.
Can there ever be a pajama party without midnight snacking? Be sure to prepare food for the kids. You can either go healthy and prepare something nutritious for them, or you can treat them to their favorite fastfood chains.
8. Prepare a list of movies.
What better way to spend the night with friends than prepare their favorite movies? Do they want to watch the usual fairy tales or simply scare each other's wits with movies like "It"? Prepare a list of movies they can choose from.
9. Teach them how to bake.
Even if you don't know anything about baking, there are a couple of recipes that are so easy to follow even the kids can do it. Learn together and enjoy those cupcakes you'll bake.
10. Have a "Are You Afraid Of The Dark?" night.
You are probably familiar with "Are You Afraid Of The Dark?" where a group of people take turns telling scary stories. You can do these with the kids and let them share stories that scare them.